https://www.soulandjazzandfunk.com/news/california-souland-funk/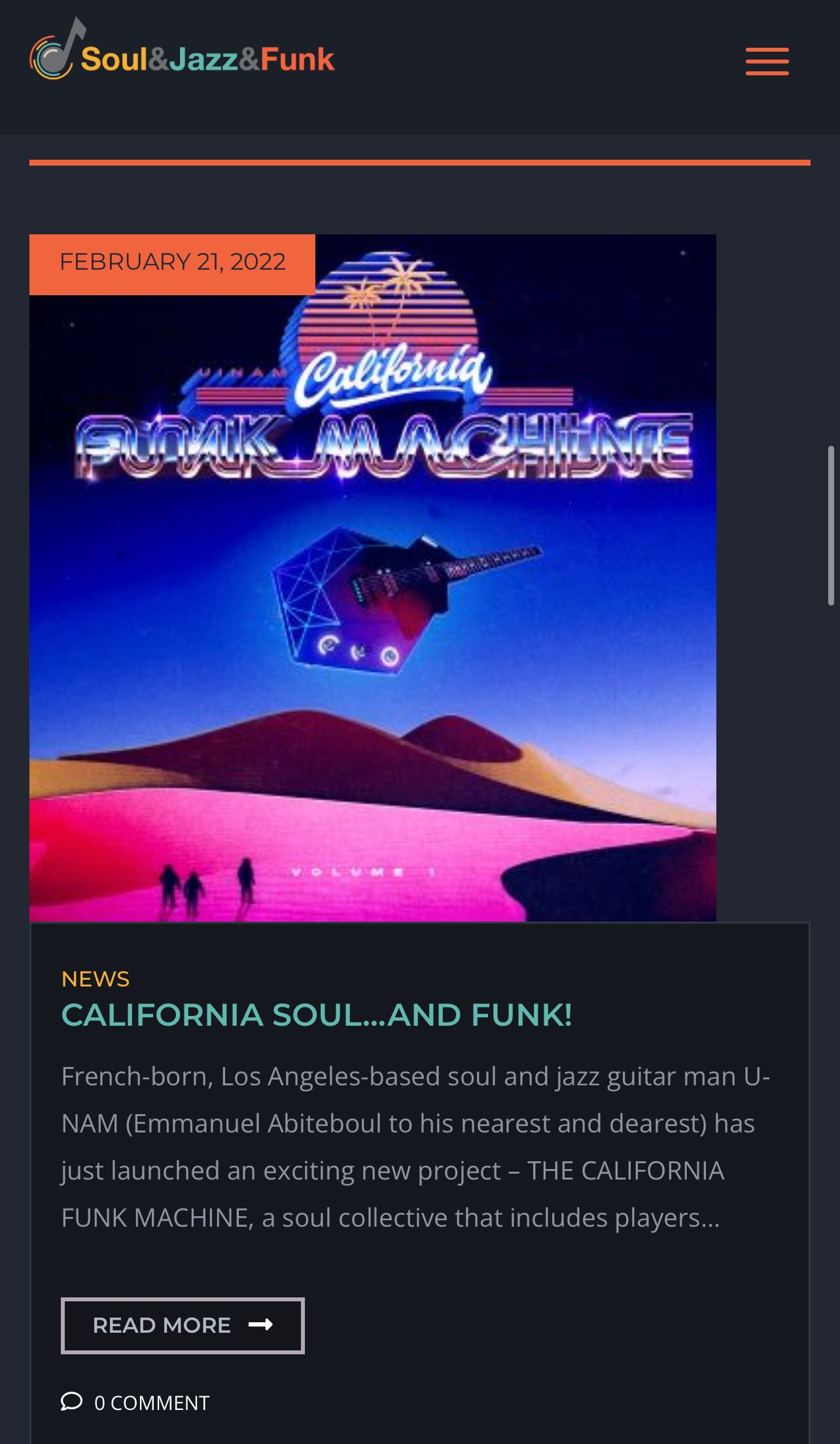 French-born, Los Angeles-based soul and jazz guitar man U-NAM (Emmanuel Abiteboul to his nearest and dearest) has just launched an exciting new project – THE CALIFORNIA FUNK MACHINE, a soul collective that includes players like bassist Freddie Washington, drummer Michael White, keyboardist Wayne Linsey (both ex-Maze) and vocalists  Marva King (ex-Stevie Wonder band), Frank Burke (ex-Heatwave) , Tony Tatum and Tom Owens. The team also includes full brass and string sections! 
These like-minded musicians have taken it upon themselves to breath new life into a collection of classic 70s and 80s funk, disco and soul classics like 'Ain't No Stoppin' Us Now', 'Boogie Down' and 'September'. 
However, these covers aren't  just faithful copies; a simple karaoke exercise if you would. Rather, with U-Nam producing and arranging as well as playing guitar (obviously), talk box, vocoder, Rhodes, clavinet and synth guitar, these faithful old soul and funk warhorses come on with new vigour, energy and impact. I guess a good way to describe what U-Nam's California Funk Machine achieve is to say that they treat these classics with the respect they deserve but  add all sorts of new flourishes  and licks – notably lashings of George Benson style guitar – that open up new perspectives  to the familiar. 
And talking of Mr Benson, one of the focus tracks is a take on his 'Give Me The Night' on which U-Nam really takes flight. Vocalist here is Tom Owens. The album offers two mixes of the song  with one an extended tweak with an organic rap from Jeff Lacey. See what we mean by respectfully different?  There are also two mixes  of 'Ain't No Stoppin' Us Now'. Marva King at the mic here  while Tim Owens also fronts the cool version of Fat Larry Band's 'Act Like You Know'. 
The other covers  on the 12 tracker are the Brothers Johnson's  'Stomp' (listen up to a U-Nam bass solo!), Herbie Hancock's 'Motor Mouth', Atlantic Starr's 'Prefect Love'(fresh, sweet and lovely), EWF's 'Fantasy' and Maze's 'Back In Stride' – all sure to delight and surprise soul and funk aficionados. 
U-Nam is keen to take the California Funk Machine on the road but in the meantime enjoy the recorded music – good to go from the start of March. Good times guaranteed for all!